If you are looking for a tantalizing experience of the world as you travel, if you are looking for ravishing fusion of nature and technology or for the most delicious cuisines in the world coupled with surreal experience of the sandy beaches, all you need to do is visit Korea! This country, as a whole is an ideal place for travelers as they seek for more, especially the more explored South Korea.
With a country so unique, every city has something or the other to offer. We are therefore guiding you with ten outstanding places and landmarks to add to your Korean travel bucket list!
1. Seoul:
South Korea's capital and one of the most stunning places on Earth, Seoul will provide you with a tryst of ancient historic culture blended effortlessly with ultra – modern technology. Almost every landmark or place in this city is worth visiting, be it for appreciating architecture or stupendous technology or for its alluring night life. Here in Seoul, you'll find a host of exciting places to eat, drink, shop and relax, whether you're in Hongdae's chic bars and restaurants or the stylish boutiques of Apgujeong.
This hypnotizing city will keep you mesmerized by its magnificent historic architecture and culture. Whilst all of the palaces are worthy of a visit, Changdeokgung Palace with its beautiful Secret Garden and the ornate Gyeongbokgung Palace which has an hourly changing of the guard ceremony with soldiers dressed in Joseon-era uniforms are under the "must- visit" category.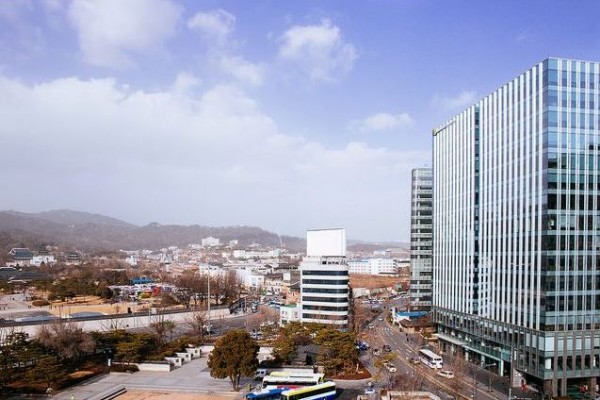 2. Gwangan Bridge:
Situated in Busan, South Korea, Gwangan Bridge or Diamond Bridge is one of the many famous landmarks of Korea which connects Haeundae-gu to Suyeong-gu. Although this bridge is only for sightseeing and not for the people to travel on it, it adds to the spectacular architecture of South Korea, especially in the evening and the night when the whole bridge is glorified by the lights.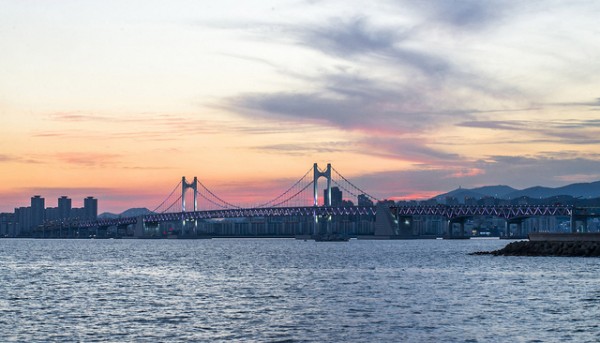 3. Myeongdong:
Another place in Seoul, Myeongdong should be given a heavy priority. This is one sure stop for sightseeing, shopping, eating and for enjoying the famous night life of South Korea. Located in downtown Jung-gu area of Seoul, Myeongdong is Seoul's main shopping district featuring mid-to-high priced retail stores and international brand outlets, including Polo, Ralph Lauren, Forever 21, Bulgari, Louis Vuitton, Zara and many more. This place can be considered heaven for all the shopaholics with departmental stores such as the Lotte Department Store and Shinsegae Department Store amongst many others.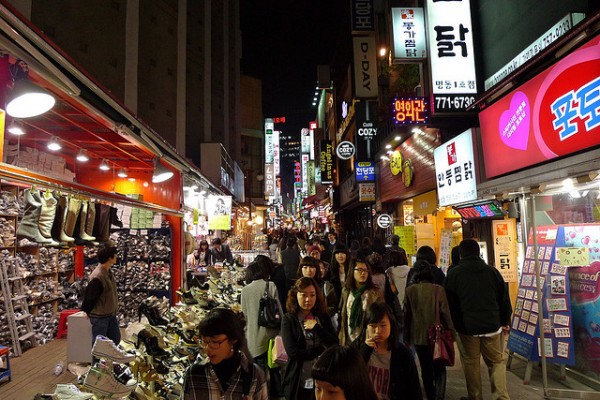 4. Jeju Island:
Known as the Asian Hawaii, Jeju Island is the home to Mt. Halla, the highest mountain in South Korea. The largest island in South Korea, Jeju Island contains the natural World Heritage Site Jeju Volcanic Island and Lava Tubes formed by the volcanic activity of Mt. Halla and therefore, it has many geological features worth visiting. The best of the many features would surely include the beautiful beach, amazing waterfall, all the strange rocks made by volcanic action, the culture and most importantly, the kind and polite people! The island is full of mysterious looking natural landscape, waterfalls, strange rocks and unique cultural history grabbing attention of the tourists and travelers across the globe!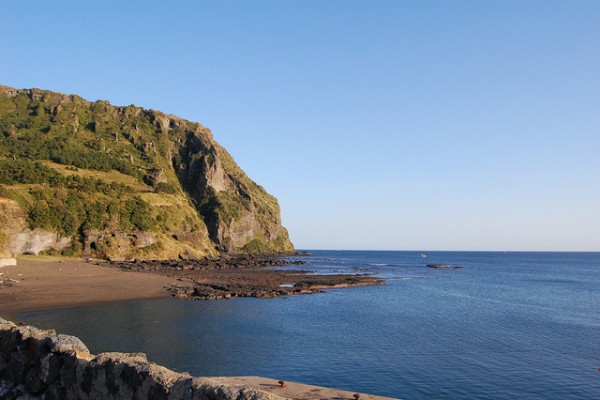 5. Insadong, Bukchon And Gwangbokgong Palace:
A "must visit" place located in the Jungno-gu, Insadong, Bukchon, Gwangbokgung and other palaces are filled with ancient culture of Korea. These cities are carefully embossed in the architecture of the palaces along with the historical folklores. Apart from the palaces, you will also find the authentic cuisines of the place. Moreover, Insadong is especially good for souvenirs, galleries, traditional restaurants, traditional teahouses, and cafes.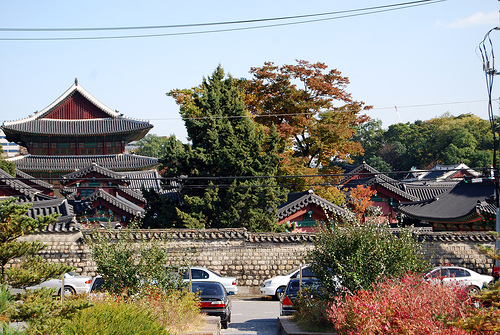 6. Nami Island:
Nami Island or Namiseom is a tiny half-moon shaped island located in Chuncheon, South Korea, formed as it was inundated by the rising water of the North Han River as the result of the construction of Cheongpyeong Dam (1994). As experienced by many, Nami Island is an oasis for culture and leisure in peaceful harmony with humanity and nature. This island is mostly famous for its roads surrounded by trees on both sides.For those seeking peace and solace in this busy, fast paced life, Nami Island is the place to visit. With its serenity, the island is greatly visited by the filmmakers and was recently shown in the K-drama called the Winter Sonata. For a break from the competitive living, Nami Island provides you with the calmness you need in life.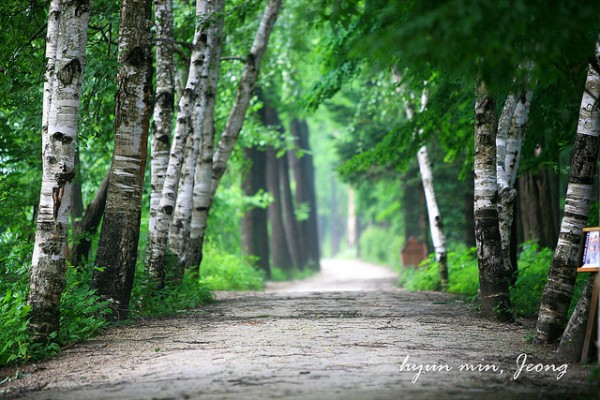 7. Ggotji Beach:
If you want a romantic involvement with your companion or with the nature, Ggotji Beach is an ideal place for such utopian experience. The beach itself is the most recommended site for photographers who want to find out the beauty of sunset in the sea, between two rocks that are well known as Granny Rock and Grandpa Rock. For some people, the two rocks are just like a couple. The legend says that there was a commanding officer's wife who passed away while waiting for her husband for a long time and became the Granny Rock. Apart from this, there are a lot of beautiful views in Ggotji beach that is enjoyable. One of the most hypnotic views is the view of the sunset along with the grayish white sands which could be the ideal place to see a sunset.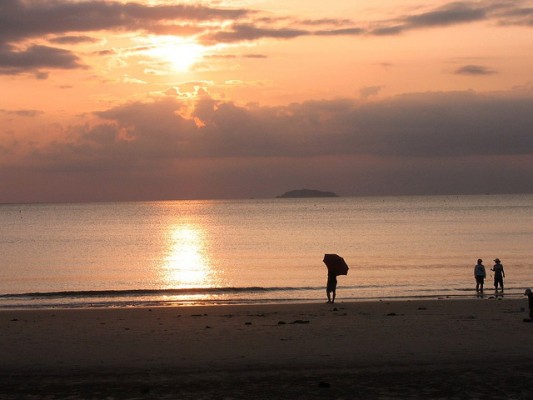 8. Haeinsa Temple:
Next on our list is the Haeinsa Temple located in Hapcheon, South Korea. The Haeinsa Temple is another most favored destination of the tourists who travel in search of a religious and spiritual experience. This temple is in this list mainly for the fact that it houses the world's oldest intact Buddhist canon, the Tripitaka Koreana. Almost 1200 – year old, Haeinsa Temple comes under the oldest heritage buildings of the world as well as makes a mark in UNESCO World Heritage List. Visiting this temple is much recommended as you will gain a broad and deep understanding of Korean culture and tradition in a short amount of time. The temple's other landmarks include the oldest wooden Buddha statue in Korea (the Haeinsa Vairocana) and another UNESCO world heritage Janggyeong Panjeon (a "storage hall of Buddhist Sutras").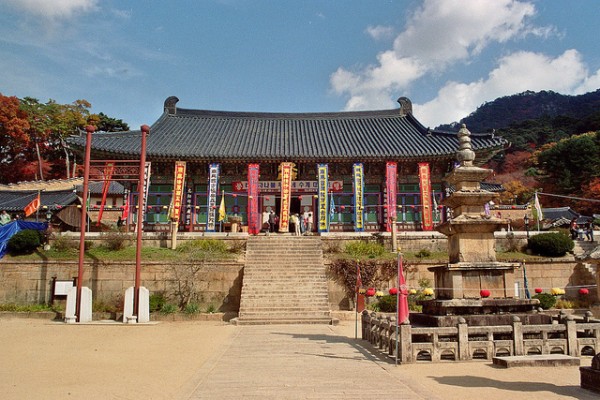 9. Boseong Green Tea Plantation:
The name itself suggests vast areas of tea fields in the country which has also provided the backdrop of many Korean dramas and films. Boseong is thus, famous for its green tea leaves all over the world. But, apart from this, Boseong is also a tourist destination for the spectacular view of the seemingly endless tea fields. A green tea festival is held every May while in the winter; the fields are decorated with tiny light bulbs. Those who love to drink green tea should not miss this beautiful opportunity to savor their taste buds with the most authentic green tea provided here in Boseong.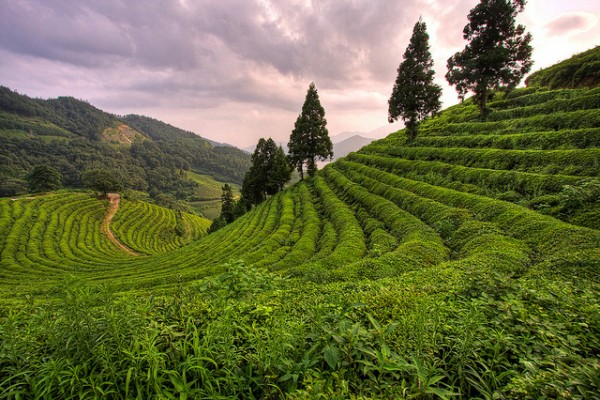 10. Daegwallyeong Sheep Ranch:
Last but surely not the least in our list would definitely be the Daegwallyeong Ranch. this place's charm is the Daegwallyeong Sheep Ranch, deep in the highlands of Korea's Taebaeksan Mountains. It's an exotic landscape of rolling, treeless hills of grazing land, so very unlike anywhere else in Korea. The ranch is an incredibly popular winter tourist destination, largely thanks to its beautiful winter scenery. We would highly recommend you to visit this less known yet highly spectacular destination! Needless to say, you will love it, totally!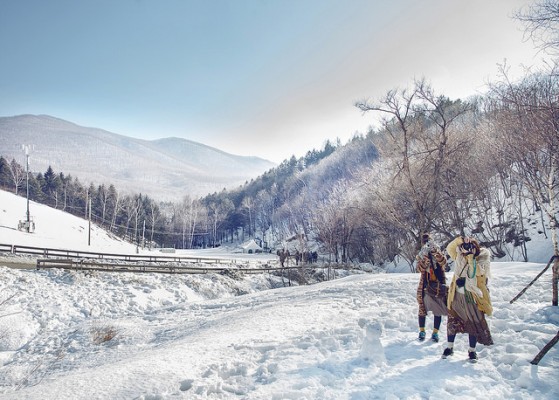 This is our list of ten most outstanding landmarks and places to visit in Korea. However, these are not the only stunning places in the country, there are many more. Please be free to comment in our comments section below.