Karachi is the economic backbone of Pakistan and a mirror of its rich cultural heritage. Over the years, this coastal city has evolved to make space for contemporariness in its lifestyle. There are many attractions dotting the whole city and some are really worth visiting again. If you are also planning a trip to Pakistan's commercial capital, here are top 10 attractions that you must visit in this city.
Mohatta Palace: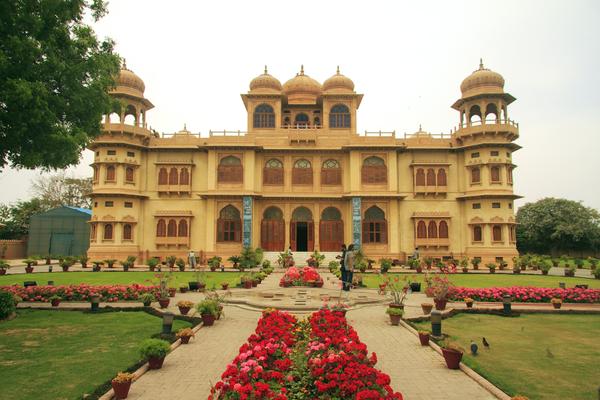 This magnificent palace in Karachi was built by a Hindu Marwari businessman Shivratan Chandraratan Mohatta in 1920s. The palace built as his summer residence was vacated by Mr. Mohatta in 1947 during partition of India and Pakistan. Later, it became residence of Fatima Jinnah, sister of Quaid-e-Azam, Mohammad Ali Jinnah. It was converted into a museum by Government of Sindh province in 1999. The stunning Rajasthani architecture of this palace mesmerizes along with its beautiful setting amidst a lush garden.
Mausoleum of Quaid-e-Azam: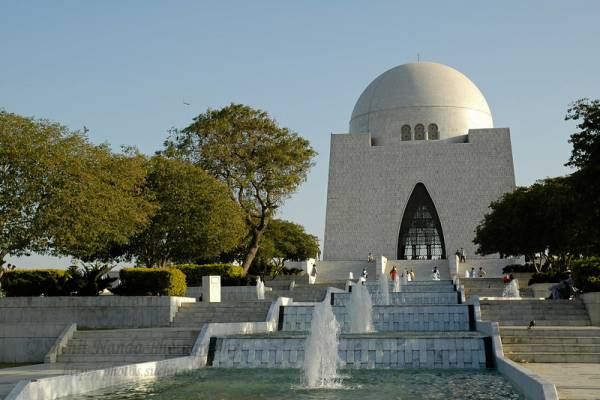 This mausoleum is dedicated to Founder of Pakistan, Mohammad Ali Jinnah, fondly called as Quaid-e-Azam or Great Leader by his fellow countrymen. This is a unique and brilliant structure in the mid of Karachi city. The mausoleum was built during 1970 with white marble. Its Moorish arches and four layered chandelier gifted by China are the main attractions of this place. Must visit here and stay for an hour to enjoy the ceremonial changing of guards that takes place after every 4 hours. Tombs of Jinnah's sister and Pakistan's first Prime Minister, Liaqat Ali Khan are also situated nearby the tomb of Quaid-e-Azam.
Clifton Beach: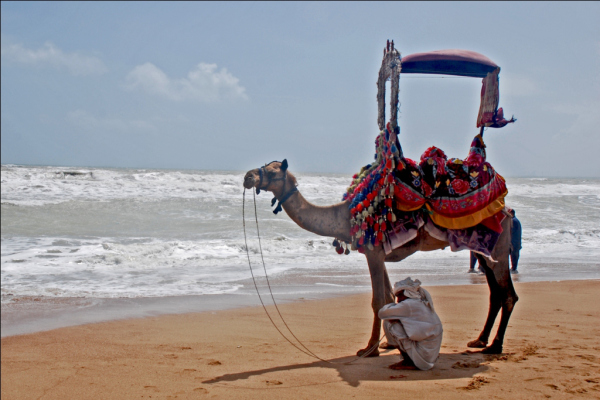 This serene beach along the shores of Arabian Sea is one of the finest beaches in Pakistan. At this beach, you can spend quality time strolling on wet sand, riding a camel, or simply watching breathtaking views of sunset at horizon. It is a favorable picnic destination in Karachi and remains quite crowded on most of the times.
Masjid-e-Tooba: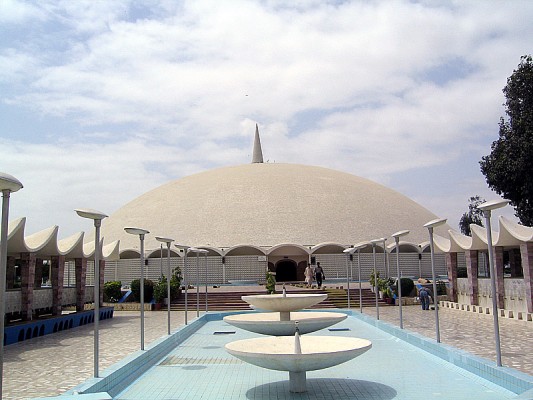 This is the world's largest single dome mosque. It is also called as Gol Masjid due to its circular dome having diameter of 236 meters. Its minaret has height of around 70 meters and the entire dome is balanced upon a wall without any pillars in the central part. It was built in 1969 and has capacity to house 5000 people at a time.
Haleji Lake: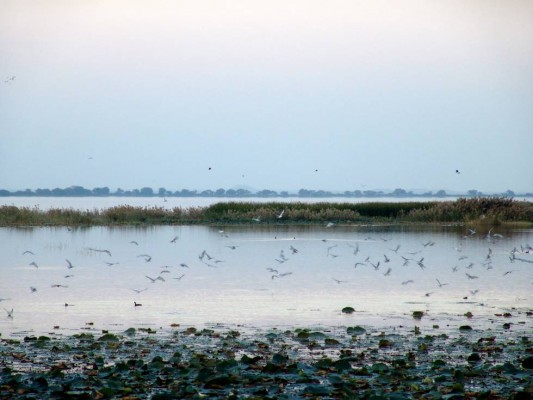 This lake at distance of 52 km from Karachi is a paradise for bird watchers. The place remains full of migratory birds from Siberia during winter months. You can spot nearly 222 varieties of these birds at Haleji Lake.
Kemari: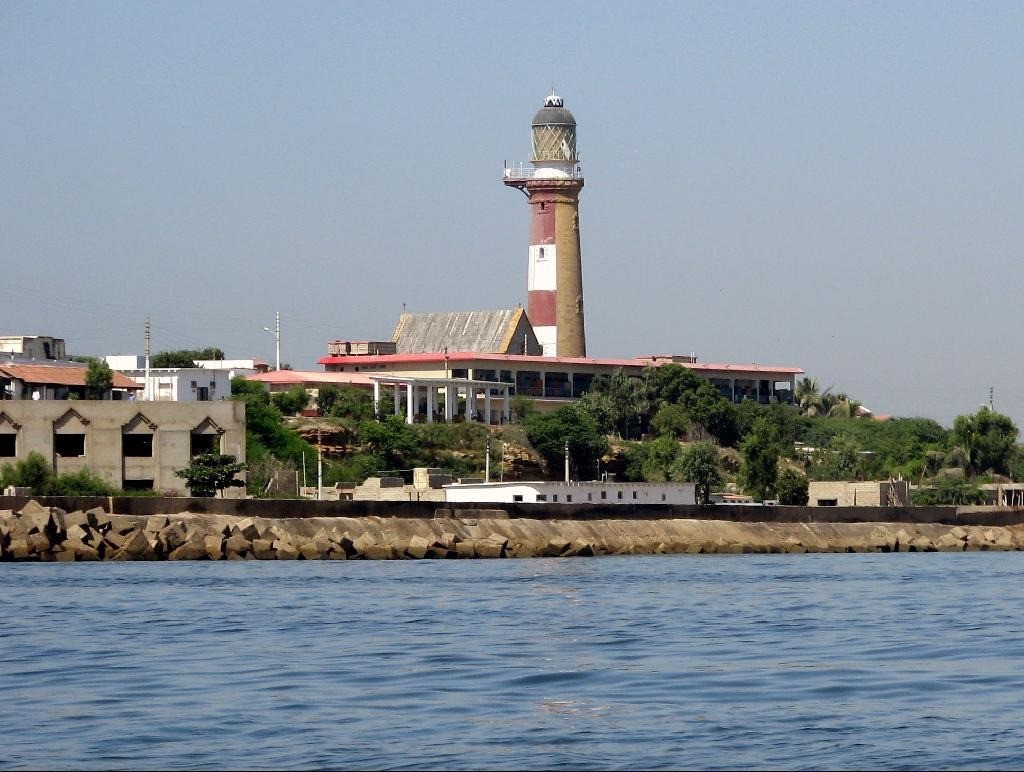 This small port of Karachi is admirable for nostalgic feel. The harbor remains abuzz with activity and you can enjoy sightseeing boats available here. Take a boat and go to Manora Island. This island has Pakistan's military base and some breathtaking views of Arabian Sea. Also, there is an old light house, church, and Hindu temple that is quite ancient as well.
Frere Hall: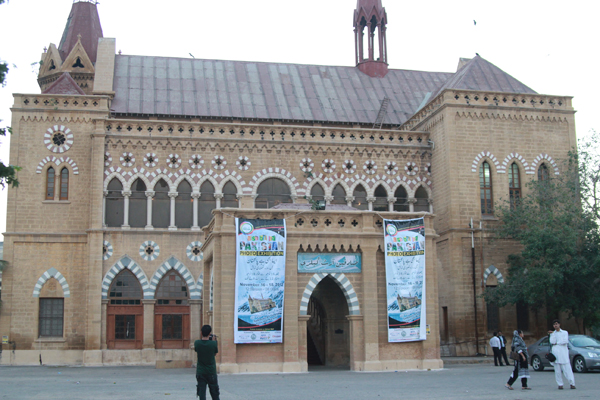 This is the ancient Town Hall of Karachi built during British Raj in Sindh province. It was built to commemorate Sir Henry Edward Frere, the erstwhile Commissioner of Sindh. He was the person who put Karachi on the path of economic development during his regime. This Venetian structure with Gothic style has Liaqat National Library on its ground floor and an art gallery on first floor. This art gallery has rare masterpieces of art created by Sadequain, a renowned Pakistani painter.
Empress Market: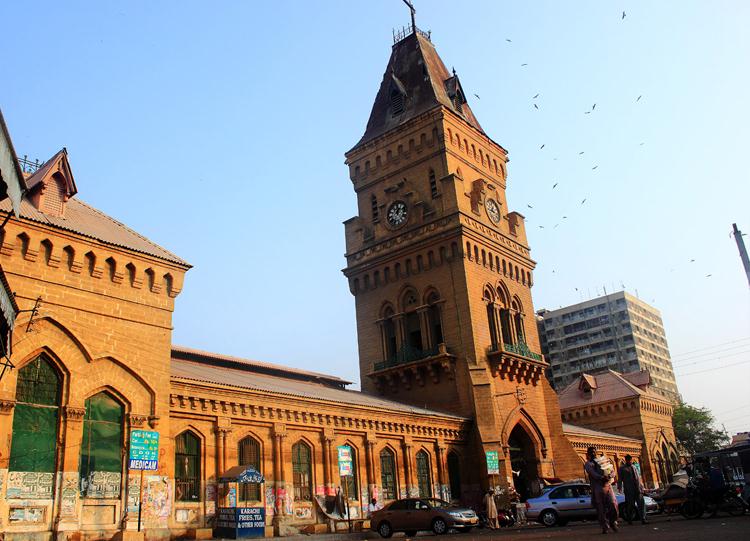 This place has merger of history with shopping. Sounds unique but that's true! It is an amazing market place situated inside a huge building constructed during British Raj and named after Queen Victoria. It is located in the heart of city called as Sadar. The building comprises of an atrium, 4 galleries and huge clock tower. It is built in Gothic style and you must visit here for some great bargains while enjoying its magnificent architecture.
Aladdin Park: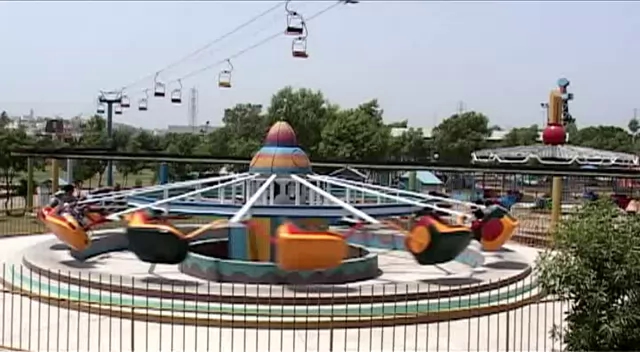 It is the largest theme park in entire province. There are attractions like Sindhbad DHA Park, Great Fiesta Cozy Water Park, Play Land Hill Park, a shopping center, and Karachi Zoo Samzu Park inside it. There is also a planetarium set up inside this park having artificial beach and hurricane wave pool for amusement of the visitors.
Bagh Ibn-e-Qasim: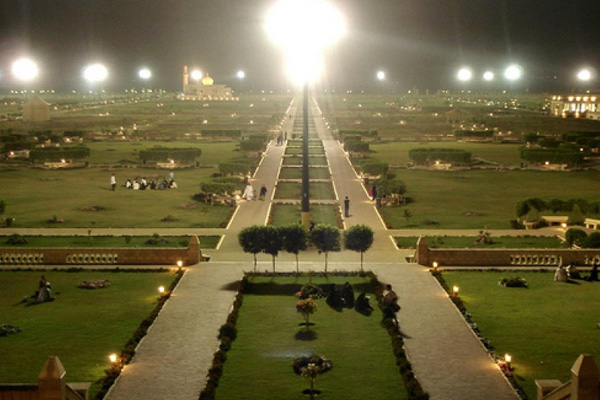 This is the largest garden of Pakistan sprawled over 130 acres of verdant landscapes. It is located along Arabian Sea and has capacity for around 3, 00,000 people at a time. This wonderful garden has many lighting towers and footlights that present alluring play of light during night.
These are top 10 places to visit in Karachi. This city is full of surprises for the travelers. Share your experiences of Karachi in comments section below.