Apart from being the largest city in newly formed Indian state of Telangana, Hyderabad is one of the most intriguing travel destinations in the country. The city represents artful merger of history with modernity. On one hand, you can relish rich gourmet delights of Hyderabad and on the other hand, shop in its markets for exquisite pearls. There is so much to explore in this wonderful city once ruled by the Nizams and their lavish lifestyle still exists here to allure tourists visiting Hyderabad.
Given below are the top 10 attractions of Hyderabad that can't be missed out on your itinerary to this charming city.
Charminar: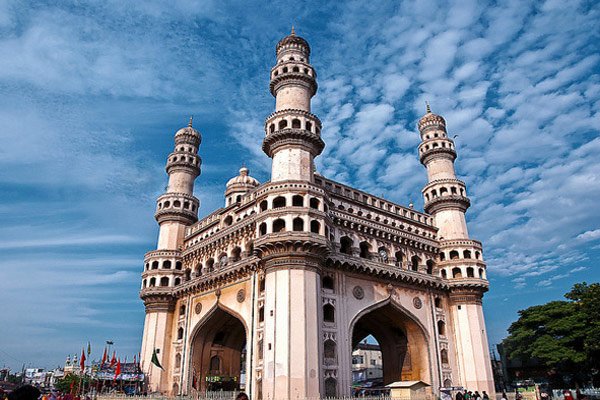 Charminar is the landmark of Hyderabad. This structure erected by Muhammad Qutub Quli Shah in 1591 AD is reminiscent of Qutab Shahi style of architecture. The stunning stucco work mesmerizes the onlookers. From its minarets at height of 50 meters, you can enjoy breathtaking views of nearby attractions like Golconda Fort, Laad Bazaar, The Charkaman and Gulzar Houz. You can also visit the famous Mecca Mosque which is also situated in vicinity of Charminar.
The Chowmahalla Palace: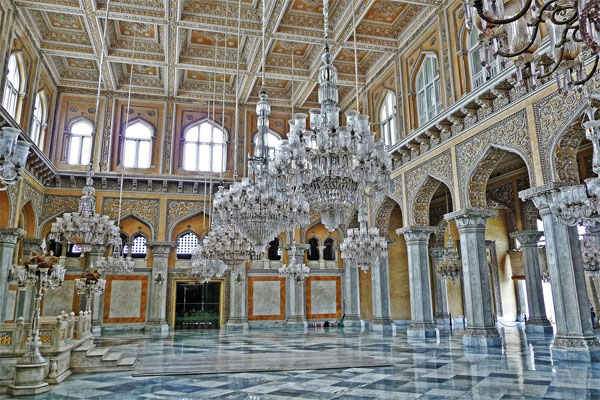 This magnificent palace is the abode of Hyderabadi Nizams. It was constructed as close replica of Shah Palace in Tehran. The European and Belgian chandeliers in Khilwat inside this palace are stunning and so is the exquisite Italian marble platform.
Golconda Fort: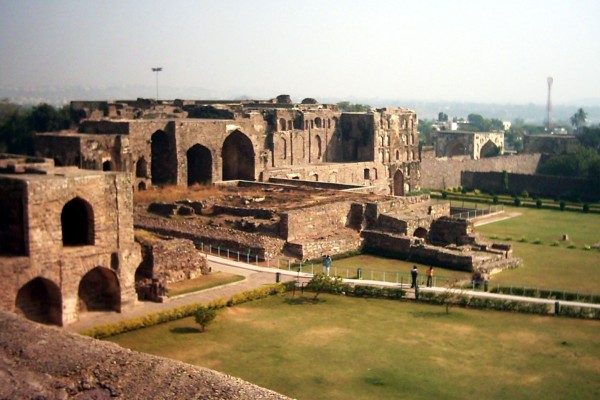 This is a massive citadel telling the tales of Quatab Shahi history in Hyderabad. It is presumed to be built by Kakatiyas in 13th Century but was expanded later by Qutab Shahis in 15th Century. It is a UNESCO World Heritage site and one of the strongest forts in India. On your visit, must experience the brilliant acoustic system of Golconda Fort.
Hussain Sagar Lake: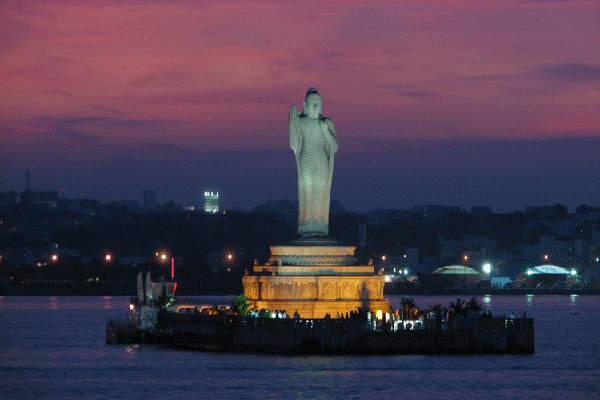 Also called Tank Bund, this is the most beautiful lake of Hyderabad. There is a 19 meters tall monolithic statue of Gautam Buddha in the center of this lake. Evenings around this lake are truly fun. You can enjoy the serenity of Tank Bund or have a pleasurable boat ride on its calm waters.
Ramoji Film City:
It is indeed the largest film studio in the world with 2000 acres of sprawling landscapes. It is a place where you can make a complete Bollywood film. Entertainment shows and children's area are also available inside this massive complex. It costs around INR 300 for adults and INR 200 for children to enjoy a guided tour of this film city for a full day enjoyment.
Birla Mandir: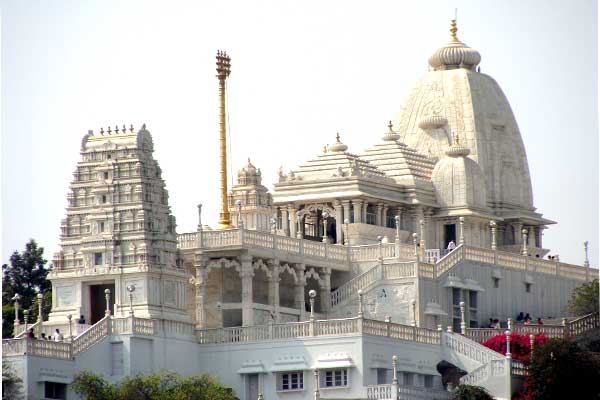 Built on a tall hillock known as Naubat Pahad, this a stunning Hindu Temple constructed by Birla Foundation. This temple is made from pure white marble and represents merger of Dravidian, Utkala, and Rajasthani styles of architecture. It houses Lord Venkateshwara as presiding deity with idols of other Hindu gods and goddesses in separate shrines. Many buses ply from main city to reach Birla Temple.
Nehru Zoological Garden: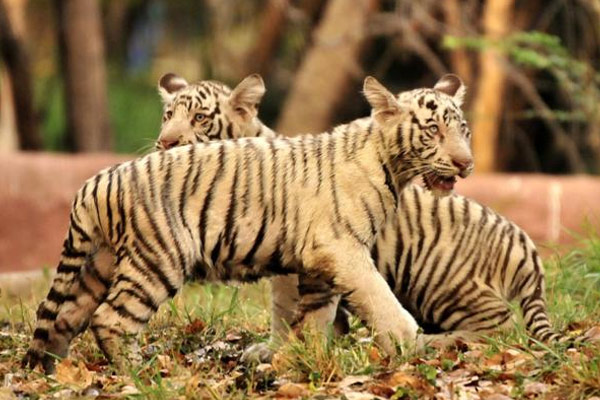 Nehru Zoo in Hyderabad is one of the largest in the country. It spans on 380 acres of land and houses more than 250 wildlife species. Special efforts have been made to provide these animals with their natural habitats. You can enjoy the exquisiteness and vast expanse of this zoo with a jeep safari that will take you closer to them.
Salar Jung Museum: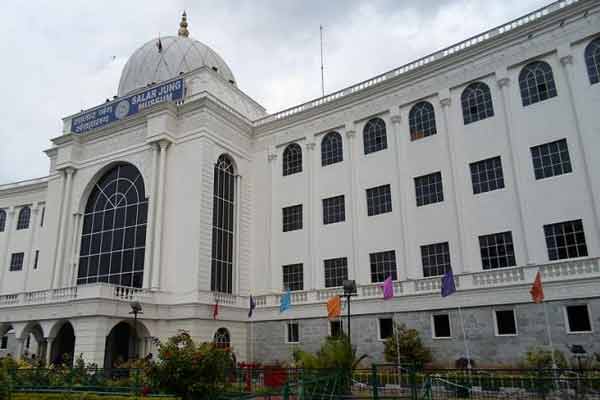 On your trip to historical city of Hyderabad, this is one place you just can't give a miss. This museum is a store house of Nizami culture and lavish lifestyle. Not only Nizams, it showcases rare art works from Far East, Middle East, Europe, and Central Asia. It was established Mir Yusuf Ali Khan Salar Jung III in 1951. It houses 38 galleries in three buildings. Veiled Rebecca, Musical Clock, and Founder's Gallery are main attractions of this interesting destination.
Qutub Shahi Tombs: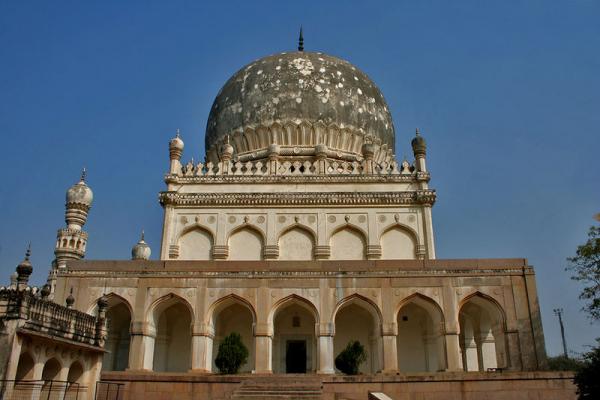 This is the oldest monument of Hyderabad belonging to the Qutub Shahis. Located approx 1 km away from Golconda Fort, these tombs are the resting places of Nizams and Begums of Qutub Shahi Dynasty. The best among all is the tomb of Mohammad Quli Qutub Shah built magnificently on a raised platform amidst lush gardens.
Shilparamam: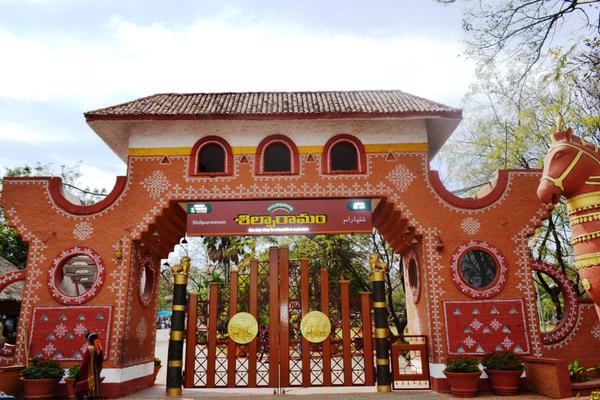 If you love ethnic arts and handicrafts, you must pay visit to this crafts village of Hyderabad. It has mud and thatch roofed cottages showcasing rare arts of this region. From handlooms to pottery and ethnic ware, you can shop for them at this place. For shopping aficionados, this place would probably top the list here!
Well, these are top 10 places that we suggest you to visit in Hyderabad. There are many other attractions in this brilliant city. Mention them in the comment section below.