Marriage is a divine relation that binds not just two individuals, but also two souls for a lifetime. Life takes a brand new turn towards love and romance. After the wedding, the hardest job of a newly married couple is to decide where they should go for honeymoon. Traveling abroad for honeymoon is no more the trend now. These days, couples from all across the world are visiting India to begin their new life together.
India is a place with beautiful landscape, rich culture and extremely hospitable people. From tranquil mountain hideaways to picturesque beaches, from fairytale desert settings to exhilarating jungles, India has a plethora of honeymoon destinations.
Now that the wedding season is around the corner, we present you a list of top ten most popular honeymoon destinations that you and your spouse will reminisce about in the years to come.
1. Coorg: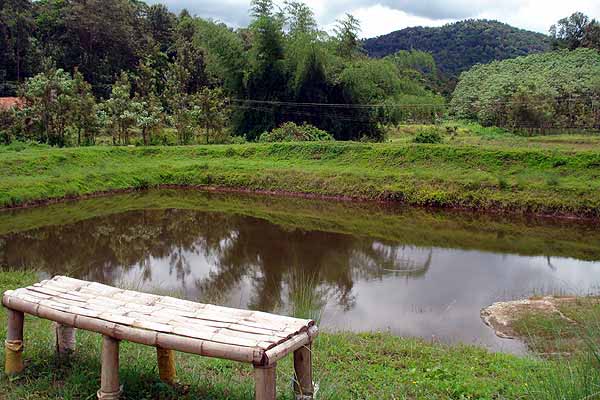 Also known as the Scotland of India because of its verdant beauty and pleasant climate, Coorg is a lush green hill station ideal for a quaint and isolated honeymoon. It is a small town with beautiful landscape and friendly people. The Abbey Falls is the most picaresque location to visit in Coorg. The coffee and cardamom plantations around the Abbey Falls enhance its beauty.  Some popular tourist spots in Coorg are Dubare Elephant Camp, Orange Orchards, coffee plantations and Talakaveri. You can also enjoy a secluded walk with your partner around the Nagarahole and Pushpagiri Wildlife Sanctuaries. Sit on the Raja's seat with a cup of coffee and watch the sunset. It will be an experience of a lifetime. Coorg is easily accessible from Mangalore, Bangalore, and Mysore.
2. Goa: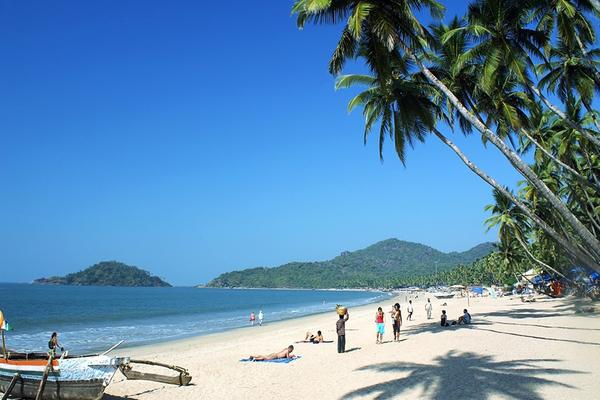 Could any honeymoon trip be complete without visiting Goa? We think not! This land of sun, sand and the sea is one of the top honeymoon destinations in India. Couples, not only from India, but all over the world, come over to spend their honeymoon here. Goa is an ideal destination if you love clubbing, partying and, of course, the beaches. Visit this city in winters to take part in the New Year bash. Some of the famous attractions of Goa include natural beaches, heritage mountains, Portuguese buildings and lush green gardens.  Spend the evening with your partner in the quieter beaches like Varca and Bogmala. You can also indulge in shopping at the Anjuna beach flea market.
3. Udaipur: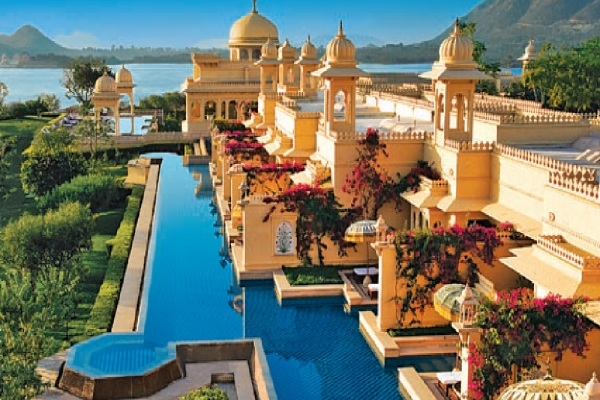 A honeymoon trip to the City of Lakes, Udaipur, can never be described in words. The charm of this place will give a royal and romantic touch to your honeymoon. You are bound to feel majestic amidst the palaces and forts that this place boasts of. You will feel love and romance captivating every moment of your life in Udaipur. The city offers leisurely boat rides to explore the city. It might even spoil for your choice. There are also many narrow lanes in Udaipur for you to discover on foot. The major attractions of this city are Jag Mandir, Lake Palace, Saheliyon ki Bari and Monsoon Palace. A trip to this royal place will be incomplete if you do not stay in a heritage hotel.
4. Srinagar, Jammu & Kashmir: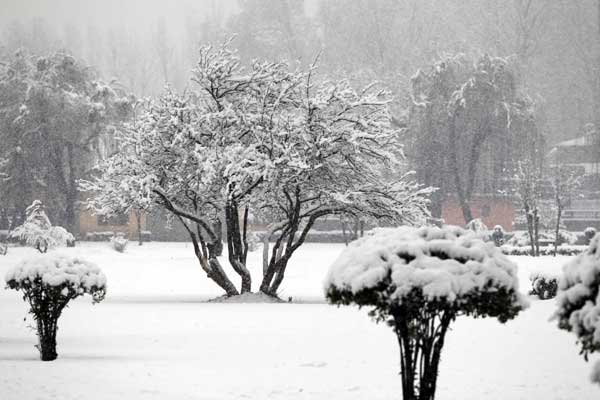 Kashmir is one of the most popular honeymoon destinations in India. It is a paradise in every sense of the word. Kashmir has a lot to offer to the honeymoon couples with its beautiful trekking routes, mouth watering delicacies, lush valleys, snow-clad mountains, enchanting landscapes, and romantic houseboats. In fact, more and more couples are opting for Srinagar for their honeymoon, despite the inclement weather.  When in Srinagar, do not forget to take a Shikara ride on the Dal Lake. During the winters, you can take the sailing activities or throw snowballs at your partner.  A trip to Srinagar also includes a visit to Gulmarg and Sonmarg.  A visit to Pahalgam is also recommended if you have time to spare.
5. Andaman And Nicobar Islands: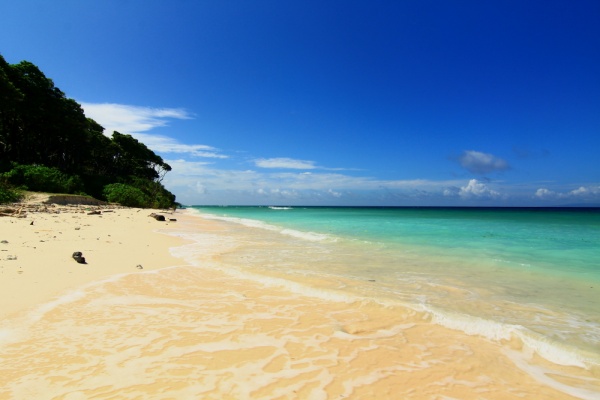 If you are a beach lover but do not want to visit Goa, then you can visit Andaman and Nicobar Island. The emerald islands surrounded by blue waters are one of the most popular beach honeymoon destinations in India. Andaman Islands offer much more than a simple holiday by the sea. It also offers attractions like dark forests, pristine beaches, and coconut palm trees. Andaman and Nicobar Islands are also a hub of adventure sports like scuba diving, swimming, kayaking, and snorkeling. This place is ideal for couples who are adrenaline junkies. Other places of interests include Cellular Jail, Mahatma Gandhi Marine National Park, Fisheries Museum, Chidiya Tapu and Water Sports Complex.
6. Agra: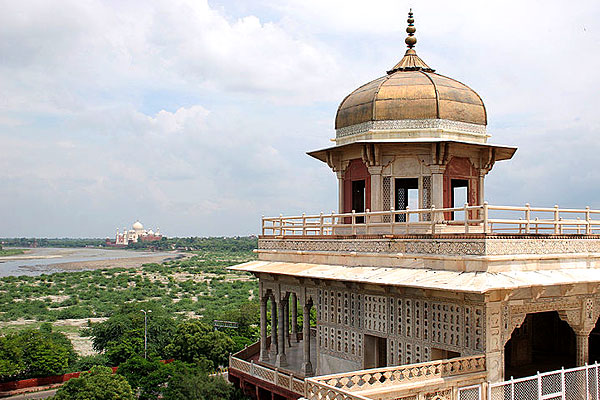 There could be no better place than Agra to start your marital life.  Agra offers the most romantic site in India, the Taj Mahal. Pay homage to the most romantic couple of all time by visiting Taj Mahal, the epitome of love and romance. The monument was built by Mughal Emperor Shah Jahan out of love for his wife, Mumtaz Mahal. The palace with its beautiful inlay work of precious stones in pure marble will surely astound you. You will have no words for describing the beauty of Taj Mahal. The other popular attractions in Agra include Akbar's Tomb at Sikandra, Agra Fort, Itmad-Ud-Daulah's Tomb and Chini-Ka-Rauza.
7. Kerala: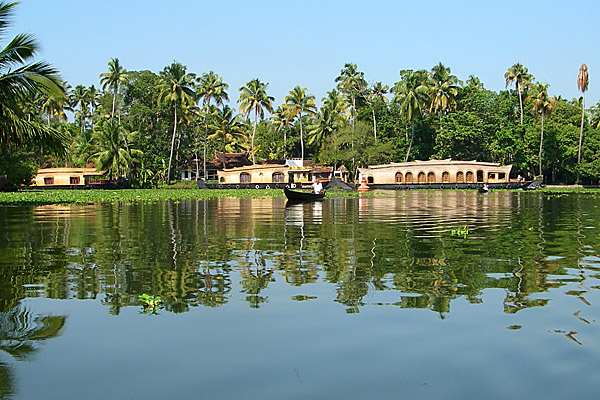 If the nature and greenery are what you are looking for on your honeymoon, then Kerala is the perfect place for you. Also named one of the 'Ten Paradises of the World', Kerala has some of the most spectacular beauties like beautiful mountains, serene beach, and lush plantations. The sceneries will captivate yours and your spouse's senses. If you are more of a beach person, then you can visit Alappuzha, Bekal and Cherayi beaches. You can also rent a houseboat on the Kumarakom Lagoon for a private getaway. The backwaters are a must visit for everyone. Some of the best accommodations in Kerala are Kaiya House, Vazhachal, Palaruvi and Athirapally.
8. Nainital, Uttarakhand: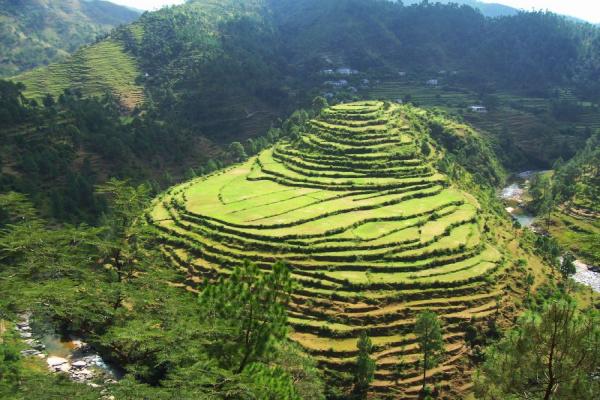 Situated at the foothills of the Kumaon Himalayas, Nainital is one of the most romantic places to start a new journey of love. The hill station is renowned for its pleasant climate, charming lakes, boat rides, green hills, and beautiful scenery. When in Nainital, you must visit Nainital Lake, Naini Peak and Tiffin Top. Take a horseback ride on the splendid terrain or simply surround yourself with the enchanting scenic beauty by taking a boat ride across the Naini Lake. You can also try adventurous sports like hiking, skiing, mountaineering, river rafting and even biking.
9. Simla: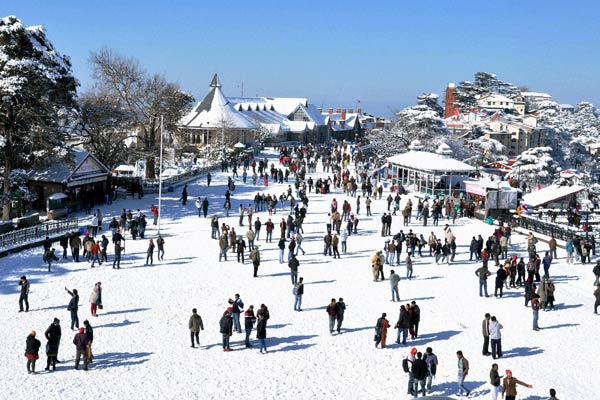 Simla is one destination that you can never get tired of visiting. This capital of Himachal Pradesh has some of the mesmerizing landscapes and outstanding plantations. This hill station is enveloped in pine and oak plantation.  Avoid visiting Simla during the summer season as the place teems with tourists. Spring and Autumn are perfect for visiting Simla. The magnificent churches, Buddhist monasteries, and ancient temples should not be missed. Do not forget to visit the famous Mall road when in Simla. It is also famous for its historic railways and Gothic style buildings.
10. Jaisalmer, Rajasthan: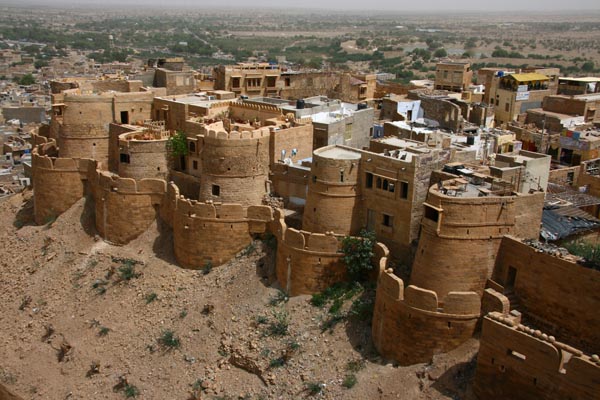 Do you want to spend your honeymoon like royalty? Then Jaisalmer is the perfect place for you. Located at the heart of the Thar Desert, Jaisalmer is all about warmth, art, craft, culture, and tradition.  You must take elephant and camel back rides in Jaisalmer. Watching the sunset on the sand dunes will inspire great romance.
Just pick up any one of the above-mentioned honeymoon destinations and let love do the rest for you.