While you were busy picking the right filter for your latest #instameal update, the foodies around the world and food critics were busy choosing and short listing the best, most luring and delicious delicacies for you around the USA! In various lists restaurants of USA, we further refined our picks for you to dine in the classiest of the restaurants with the elitist and absolutely enamoring ambience and obviously, the "heavenly" experience of the best food available in New York! Tempting, enough? Read further as we short list you the top 10 luring restaurants of New York!
1. Eleven Madison Park:
Rated in the top 100 of the food restaurants in 2015, Eleven Madison Park provides you with the contemporary American dining menu along with the most exquisite of the dishes. Mastered over by Daniel Humm, this restaurant provides with the most sought after 'taste delights' with an outstanding capability of creating the perfect balance between great food and impeccable service. The best recipes of this restaurant would definitely include a jar of granola (among many others): Pistachio, Coconut & Cherry Granola! Yum!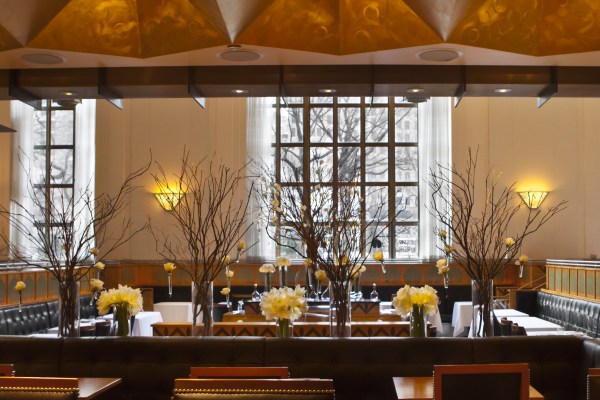 2. Le Bernardin:
Another top restaurant situated in New York, Le Bernardin is more in the list for its elite and classy ambiance along with the entrée, of course! A restaurant known for its exquisite French cuisine and highly recommended sea food, it is mastered by none other than the most known chef, Chef Eric Ripert. One of the most famous dishes of this restaurant has to be Master Ripert's favorite, Fluke "sashimi," Micro Watercress, Avocado, Jalapeno-lime broth! Mouth-watering!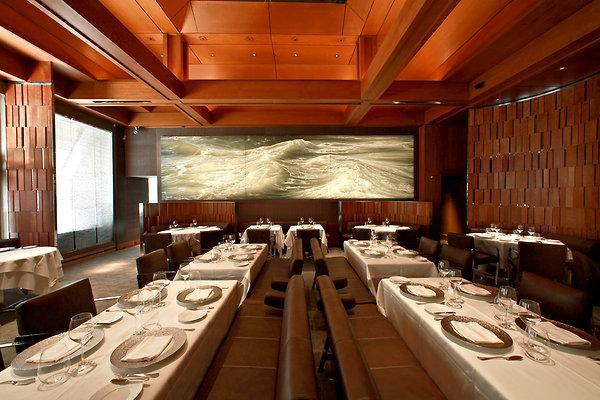 3. Per Se:
Considered as the Best Restaurant of New York by the New York Times, Per Se is the finest French Restaurant you can find in New York. Controlled by Chef Thomas Keller, this restaurant mainly focuses on French cuisine and also contains food items of the New American delicacies! One of the most ordered dishes in this restaurant is Oyster and Pearls: Pearl Tapioca with island creek oysters and sterling white sturgeon caviar!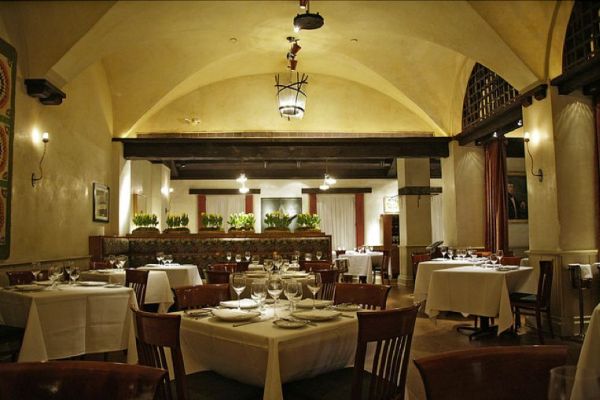 4. Blue Hill At Stone Barns:
For a magical dining experience on hills, Blue Hill is THE choice for you! Established very recently and achieved quick fame, this restaurant offers its customers with a variety of tasty dishes! Locally sourced, seasonal ingredients abound on the American menu served at this famous restaurant. The dishes range from a huge variety of American cuisine and also continental dishes but the most famous of them is the Grass Fed Lamb grilled radicchio, cherries and pistachios among many other!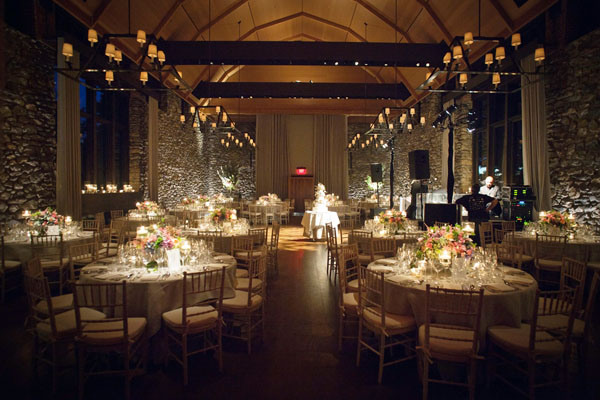 5. Black Tree:
Located in a small spot down an alleyway in the Roseland Plaza, Black Tree offers a bountiful variety of servings to savor the taste of the customers. Considered to be a marvelous place for the happening crowd, Black Tree offers some of the most delicious and most inventive Urban American Dishes which gives the ultimate New York feel! Headed by Sandy Dee Hall (Chef/Owner) and Macnair Sillick (Owner),you would find seasonal spins on American bar fare with craft cocktails, wine and beer.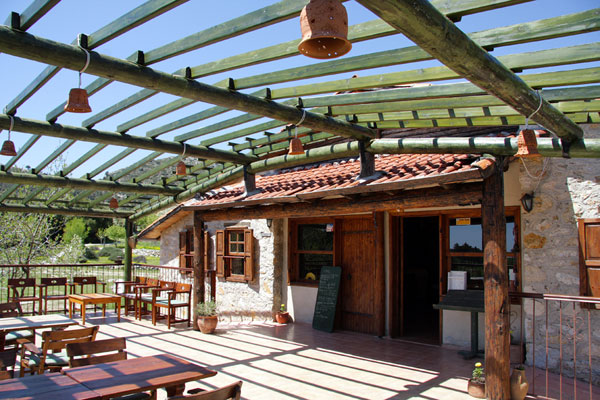 6. Momofuku Noodle Bar:
When in town and want to have something different, you should visit the restaurant known for its Asian Fusion. Momofuku Noodle Bar, established in the recent year of 2004 under the guidance of the head chef, David Chang, it savors the taste buds of those looking for some Asian twist to their New York dishes or wanting some great Asian cuisine, altogether! From the wide range of exclusive Asian dishes come the finest of them all like Pork Buns, Momofuku Ramen and many more!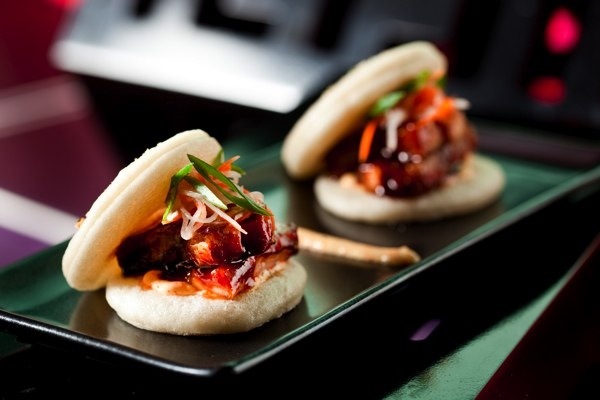 7. Sushi Yasuda:
Another diversion from the authentic American cuisine is the dishes straight from the innovative minds and creativity of Japan. Sushi Yasuda is a restaurant with the least décor or architecture giving a very minimalistic view with bamboo-plank walls and open spaces solely promoting its dishes rather than ambiance, as such. This simple yet attractive approach is seen in the cuisine of Chef Naomichi Yasuda. From sushi to sashimi or home- made Wasabi, you will find a variety of authentic cuisine without much fusion done to the dishes!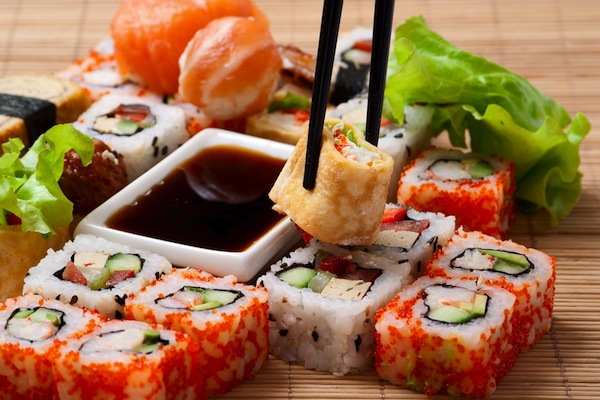 8. Gotham Bar And Grill:
This restaurant fulfills the wishes of many American diners with its exclusive New American plates, cakes and great wine list with something for everyone. Mastered over by Executive Chef and Co-Owner, Alfred Portale, Gotham Bar and Grill comes up with some enticing dishes from the menu including seared Foie Gras which melts on the tongue, the five-spice Peking Duck breast that would uplift your taste buds and the Miso Black Cod, among many others.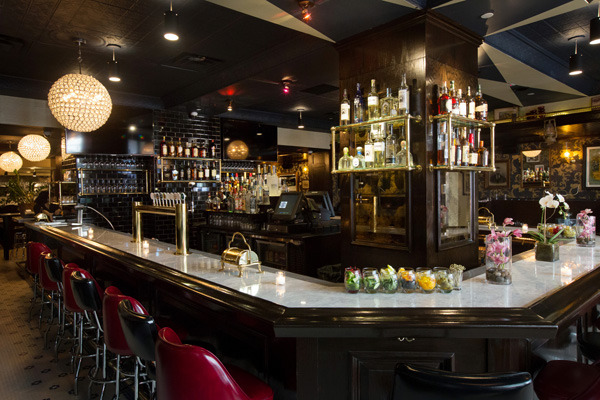 9. Jean-Georges:
This one comes up directly from the celebrity chef Jean-Georges Vongrichten who has a culinary empire that spans the globe, but his eponymous restaurant remains a gold standard for the chef's subtly Asian-inflected, French haute cuisine. From the chef's kitchen comes some of the top- class food like Tuna Tartare, Young Garlic Soup, Maine Red Prawn and Sea Urchin Sea Bean amongst many. Savor the taste and experience the sophisticated ambiance of the restaurant!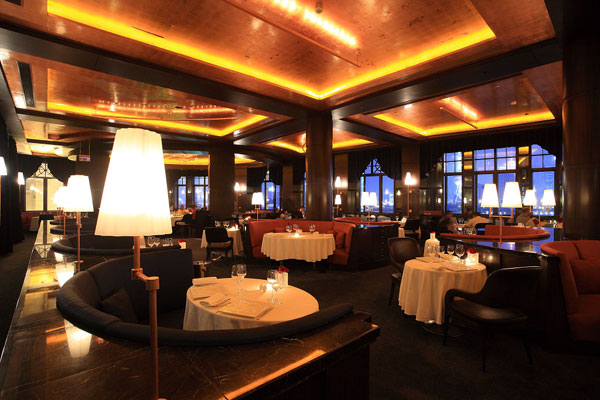 10. Lafayette Grand Café And Bakery:
A French Restaurant which gives you a feeling of being in Paris! If you're willing to shell the a little more, then Lafayette Grand Café and Bakery is a nice place to relax with your daily reading. This restaurant serves some yum breakfast spread including a menu of frittata, the omelet and the eggs with a cheese plate. Not to forget the other dishes which serve for a great Sunday brunch or a Friday Dinner Date such as Roasted Octopus with Chickpea and Yogurt Rubs Elbows with Braised Rabbit Pasta, or Wood-Grilled local Trout with cabbage and mustard sauce as well as yummy cheesecakes for deserts.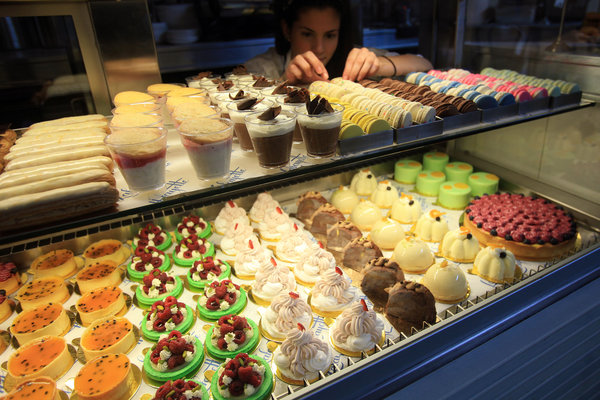 We tried to incorporate some the most delectable and enticing dishes served in New York in some of the world class restaurants. However, the list for good food is endless with a lot more dishes to explore when in New York. Feel free to incorporate your views of the restaurants and reviews of your most happening experience with food in the comments section below.