Also known as the princely State of Mysore, Karnataka is a state located in the Southwestern region of India. It has seen the dominance of ancient kingdoms like Chola, Chera, Maurya, Hoysala, Satavahanas and Mughals. It is best known for its beautiful yet unpopulated beaches and a rich culture and heritage. The state is also famous for its architectural heritage.
Karnataka has a lot to offer in terms of tourism but is unfortunately overlooked for other popular places like Kerala, Goa and Tamil Nadu. It has 507 of the 3600 centrally monuments in India. Karnataka tourism centers in the modern cities, hill ranges, forest, and beaches. Karnataka with its archaic monuments, forts and temples, offer an intriguing mix of attractions to its visitors. From lush green landscape to the sultry beaches, Karnataka has something for everyone.
1. Bangalore: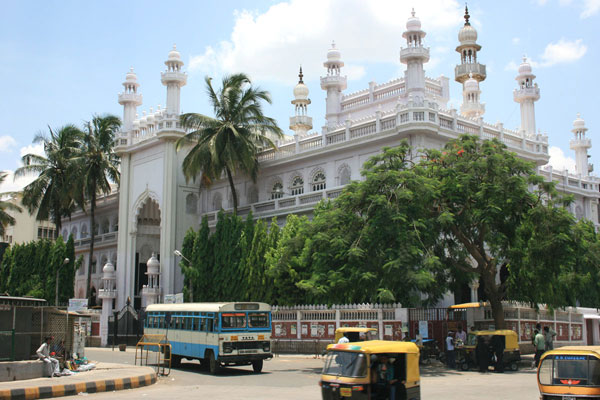 Bangalore is the capital of Karnataka and the third most populated city in India. It is fondly called the silicon valley of India for being a major IT exporter in India. It is also called the "Garden City" for its beautiful, manicured gardens, tree-lined broad avenues, and lovely bungalows. Bangalore is a contemporary and the fast growing city of India. It is full of young professionals. Bangalore is famous for various modern and historical attractions like palaces, temples and forts. Some popular attractions of this city are Bangalore Palace and Fort,  Vidhana Soudha, Lal Bagh and Cubbon Park. The city experiences moderate climate throughout the year, so you can visit it anytime you like. You can reach the place by air, rail or road.
2. Coorg: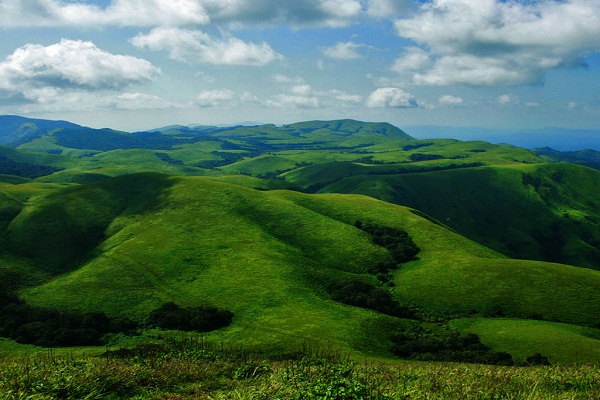 Coorg, also known by its native name 'Kodagu' is a beautiful town located on the slopes of the Western Ghats. This popular honeymoon destination is famous for its pleasant climate and lush green surroundings. It is also the home to several Buddhist monasteries and beautiful temples. Do not forget to visit the lush teak wood and sandalwood forest. This extremely picturesque mountainous area is easily accessible via rail, road, and flight. Adventurous people can trek and river rafting in Coorg. The other must visit places include the Abbey Falls, Talakaveri and Irupu Falls. If you want to be a part of festivals in Coorg, then visit the place in June, November or December.
3. Nagarhole National Park: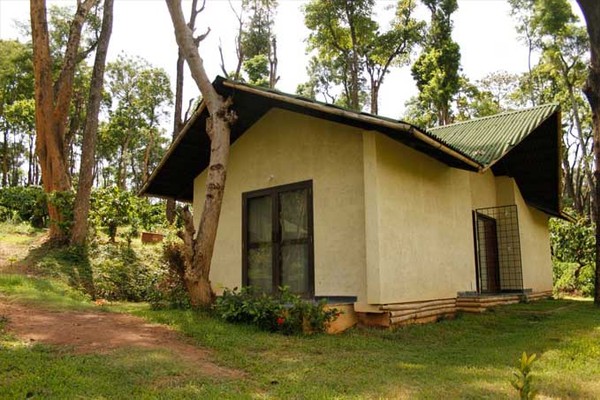 Nagarhole National Park, officially known as the Rajiv Gandhi National Park, is one of the top national parks in India. It is the best place to see the elephants and other animals up, close and personal in their natural habitat. Nagarhole National Park is also renowned for its snake-like rivers. There are around 250 types of birds, bison, tiger, deer, wild boars and deer. Do not be alarmed if you see herds of elephants on the riverbank. It is a natural sight here. The serene forest, tranquil lake, and bubbling streams will leave you awestruck. You can explore the Nagarhole National Pal by jeep, boat or on an elephant's back.
4. Gol Gumbaz: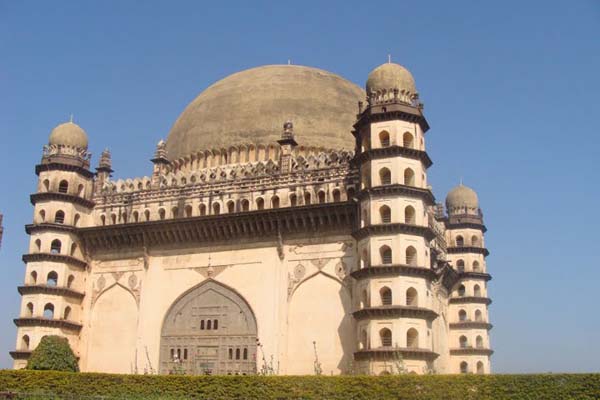 Gol Gumbaz, meaning "round dome", is the mausoleum of 'Mohammed Adil Shah', the 17th ruler of Adilshahi dynasty. It is situated in Bijapur, Karnataka. This structure is considered a "structural triumph" of the Deccan architecture. It is the second largest dome after St. Peter's Basilica, Rome. The monument has four minarets, which serve as the staircases leading to the top dome. Inside the mausoleum, the  hall is a square podium with steps on each side. The steps lead to the original grave below. The construction of this tomb took 20 years to complete. The most striking feature of this gumbaz is the dome that stands without the support of pillars. In addition, any sound made at this place echoes for over 11 times.
5. Jog Falls: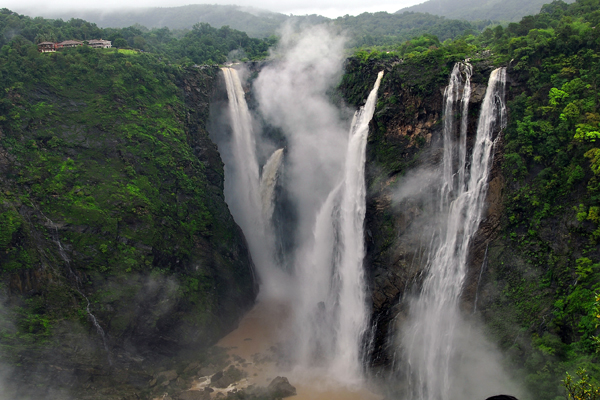 Jog Falls, also known as Gerosoppa fall, is situated on the borders of Shimoga and North Kanara. It is the place from where the river Sharavati falls, forming a glorious waterfall. The river forms four tracks, namely, Raja, Rani, Rocket, and Roarer. Surrounded by amazing lush forest, Jog Falls make an amazing sight for the onlookers. There are also a few places around the Jog Falls where you can spend the night. Do not forget to walk down to the bottom of the waterfall. The experience will be totally blissful.
6. Mysore Palace: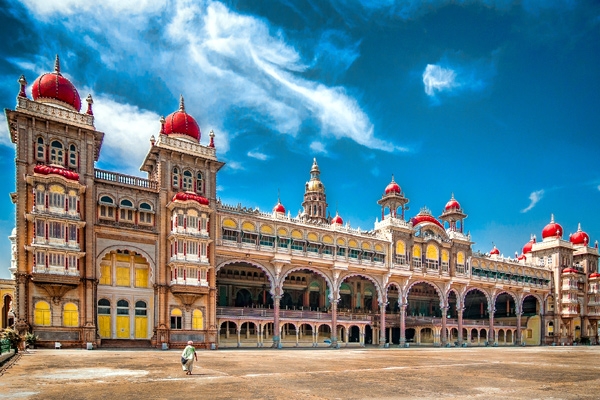 The Mysore Palace is a historical palace in Mysore, Karnataka. It is one of the central pieces of Mysore attractions. The palace is the official residence of the Wodeyars, the Maharajas of Mysore, who ruled the princely state of Mysore. The palace has two Durbar halls, courtyards, gardens, and buildings. The interior of the Mysore Palace is intricately carved. Above the central arch is the sculpture of Gajalakshmi, the goddess of wealth and prosperity. The original palace was built of wood, which got burnt down in 1897. It was Chamaraja Wodeyar who rebuilt it in 1912.
7. Lal Bagh: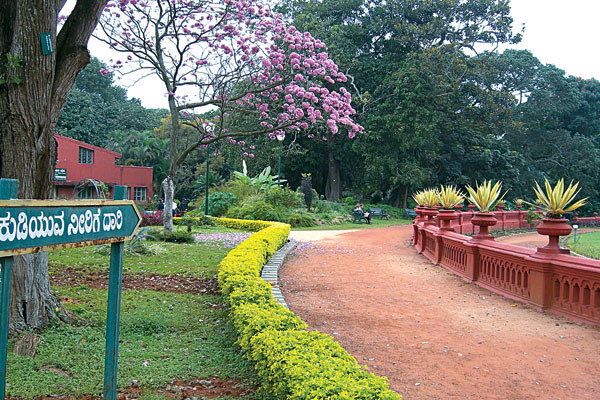 The Lal Bagh Botanical Gardens is a well-known botanical garden in the southern Bangalore, Karnataka. The garden was initially commissioned by Haider Ali and was later finished by his son Tipu Sultan. Lal Bagh Botanical Gardens is famous for its glass house that holds an annual flower show every year on Independence and Republic Day. It is one of the most awaited shows of the Garden City. Around 200 varieties of flowers and 20000 pots for decorations are displayed during the flower show. The garden boasts a fine collection of tropical plants, an aquarium, and a lake. The replica of Red Fort is a major attraction of Lal Bagh.
8. Kudremukh: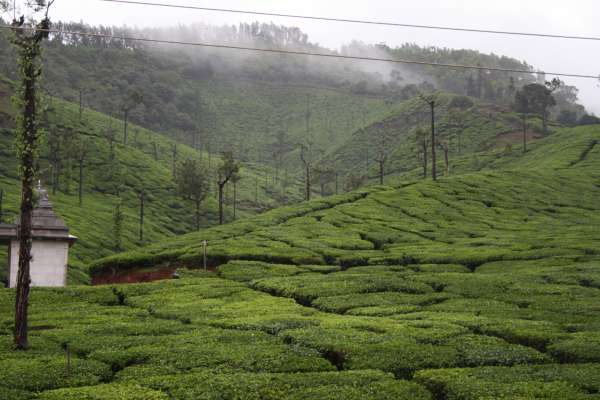 Kudremukh is the name of a peak located in Chikkamagaluru district, Karnataka. The mountain range is renowned for its picturesque view of a side of the mountain that resembles a stallion's face. When in Kudremukh, do not forget to visit the Kudremukh National Park, the second largest Wildlife Protected Area. Kudremukh National Park is also popular for its scenic beauty. It is covered with thick, hilly forests, semi-evergreen trees and coffee and tea plantations. It also houses a variety of animals like tiger, wild dog, leopard, sambad, deer, jackal, gaur, sloth bear, etc. It also has around 195 species of birds. This place is surely a bio-diversity hotspot.
9. Wonderla: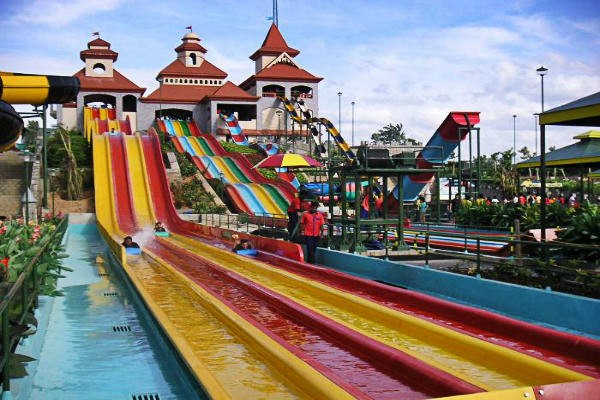 Woderla is the leading amusement park of Karnataka. It is located at a distance of 30 kilometers from the city. Wonderla is one of the most popular weekend getaways for families. This water theme park is noted for its impeccable cleanliness and meticulous maintenance. Some of the popular attractions of this park include- wave pools, high thrill rides, musical fountain and laser show. The park has also opened a resort for an overnight stay. Note- The rides at Wonderla are pretty wild, so keep your watch, money, and jewelry safe.
10. Bhadra Wildlife Sanctuary: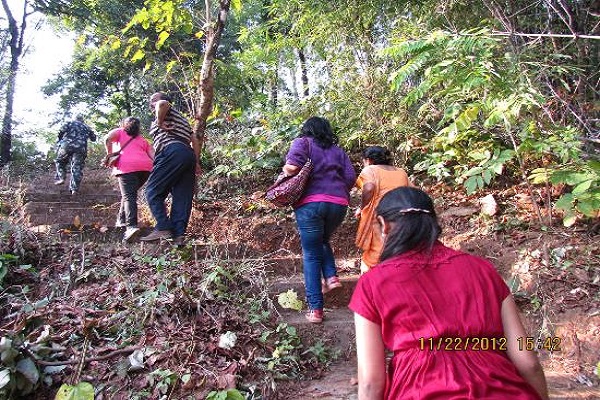 Bhadra Wildlife Sanctuary is a Project Tiger reserve located in the midst of the Western Ghats. The place is renowned for its range of flora and fauna. Bhadra Wildlife Sanctuary is a popular place for day outings. The reserve has two main areas Lakkavalli and Muthodi. The reserve has more than 120 species of trees, which include Teak, Rosewood, Nandi and Kindal. The sanctuary also has a diverse range of wildlife like tigers, lion, elephant, mouse deer, wild dog, jackal, etc. Some popular activities in Bhadra Wildlife Sanctuary include water-based adventures, bird watching, trekking, camping and rock climbing.
Make sure you pick up some Kannada words before heading to Karnataka. It will help you greatly while traveling. We hope you have a gala time in your trip to Karnataka.